from The Leader at The Beaches
Wednesday, December 24, 1997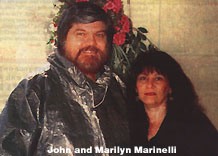 Poetry with purpose is goal of Christian poets gathering
By Patti Connor
Contributor
There are those who write poetry for no apparent rhyme or reason. Not so John Marinelli. Not only are the ordained minister's poems intended to provide comfort and inspiration, but they also help the homeless.
Marinelli and his wife, Marilyn, founded the Christian poetry Association of America in 1983 while living in Fort Lauderdale. After seeing their efforts take off, the Marinellis moved out of state. They returned to Florida last year and settled in Ponte Vedra Beach, where they recently have established the Fellowship of Christian Poets.
An Outreach program of Marinelli Ministries, a nonprofit organization, the group meets for open poetry readings at 11:30 a.m. the second Saturday of every month at The Golden Coral Restaurant.
"At our first meeting in November, we had 30 people. This month, we had 20. Considering it's around Christmas and all, we think that's a very good turnout," he said.
Attendance is open to anyone who enjoys Christian poetry. "We hear a lot of good poems that are very focused and well written. It's a very diverse group from all walks of life -- single moms and married couples, people from age 9 to 89," Marinelli said.
He first tried his own hand at writing poetry during college as part of an assignment for his humanities class. "I asked the Lord for a poem, and I've been writing ever since," said Marinelli, whose lyrics have won awards.
Unlike secular poetry, which focuses on one's relationship to the world around him, Christian poetry focuses on the individual's relationship with God. "He gives you poems and you write them," Marinelli said.
This week, he will mail out his first order for water-resistant ponchos that will be donated to the Homeless Clothing Center, a ministry for homeless men in Jacksonville Beach. Designed by a Christian ministry in California, the ponchos can also be used as blankets or pup tents. "Practically speaking, they work much better than the ones you get from the Salvation Army that have to be thrown away once they get wet," said Marinelli of the ponchos, each of which comes with an inspirational poem.
Also, "Once we form a committee, hopefully we'll be going to some of the festivals and arts and crafts shows. We would also like eventually to be able to offer a workshop on how to tap into the inspiration to write Christian poetry," he said.

since 2/28/06!

Articles | About Us | Get Involved | Poetry | Library | Membership

&copy 1998-2008 Fellowship of Christian Poets

This site is maintained by
WebTech Design Group
Christian Web Design, Hosting, SEO and more
Visit them to see their low rates and Free Resources

To report a problem on this site, please contact them at:
support@webtechdg.com