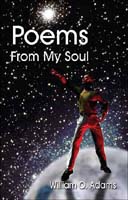 Click Image to Enlarge
To order
www.publishamerica.com
Click on "online bookstore"
Under search, type William O. Adams
This will take you directly to the book. I think they have it for sale, $16.95.
William O. Adams presents poetry that he has written and collected over the last twenty-five years of his life. He has always been very interested in the observance of Christmas and other Christian holidays and has written a number of poems about these observances. He has many others about the daily life and relationships, not only with family and friends but with his God. He unashamedly declares that his dedication to the will of God in his life is the most important factor in his existence. You will feel the emotion of his heart as you read these poems.